Today I am reviewing the Boots Tea Tree & Witch Hazel Charcoal Face Mask.
I bought this product after reviewing many reviews raving about how good it was
and I wanted to see what the hype was about. I was on the look out for an inexpensive charcoal mask to help cleanse my skin. Charcoal masks are very good for detoxifying the face, cleansing pores and clearing away dirt. Priced at £3.59 this product is excellent if you're on a budget like me, the only down side is that it is only a 50ml tube however it's usually on a 3 for 2 offer so you can make the most of it.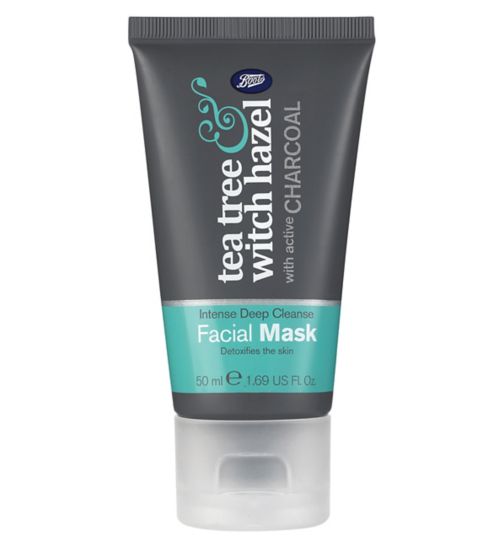 The formula is a very dark grey, almost black colour as you would expect being charcoal. I found I had to use quite a bit to properly layer it on my face, however it's down to preference you could use a thin layer if you wanted, but I tend to feel I get more out of the products benefits if I am abit heavy handed with it!
The mask tightens a little and is drying but not overly so. It is recommended to leave it on for a maximum of 15 minutes but I feel like because its not overly drying I can leave it on longer whilst I watch a YouTube video or something, when you notice it cracking I would take it off.
The product has definitely helped to smooth out my skin, once washing it off my face felt clean and fresh. My blackheads are worse around my chin area and I did notice a reduction but not as great as I expected, however it made more effect in other areas such as my nose and forehead which I am pleased about.
I am happy with this product, it does what it says on the tin and it is great for oily/blemish prone skin. I feel it is the kind of product you need to use regularly to see a big change.
Overall this mask is a nice treat for your face when in need of a deep cleanse, it's very affordable and for a boots own brand it has good results.
I would recommend!