Today I will be reviewing the Anti Blemish Moisturiser from Simple's Spotless Skin range.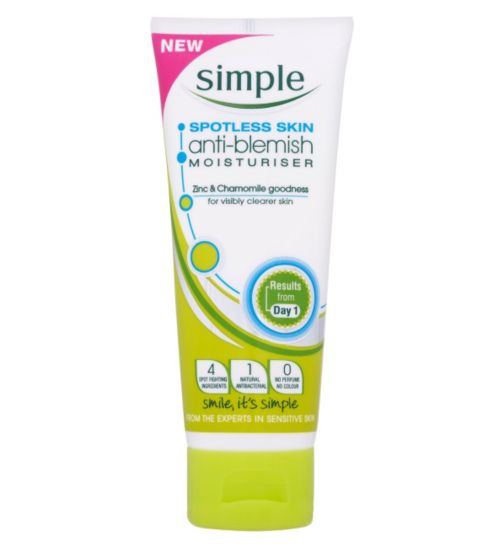 I have always liked Simple products for their gentle and pure formula, they are clear from harsh chemicals and artificial perfumes, making them great for most skin types, specifically sensitive skin.
I have used the Simple Rich Moisturiser for years and I love it, however I have been suffering from blemishes recently and I wanted a good swap in moisturisers to keep combat my outbreaks.
This product incorporates
Zinc to absorb excess oils, Corn Starch to mattify shine throughout the day, Aloe Vera which softens the skin and Chamomile to work as an anti irritant. It also contains natural antibacterial agent Phytosphingosine which helps to fight spots and blemishes.
All in all sounds pretty good, especially for the bargain price of £2.29

at

Superdrug down from £4.59!

SO

It claims to show results from day 1, which I did not experience but it definitely moisturises and helps mattifiy

my skin well, now I have been using this for about a month now , I've actually just repurchased a new tube!

after about a months use I can say I've noticed a considerable improvement to my skin, I still suffer from blemishes but I find this product definitely helps to reduce size and appearance and also to clear them.
I do find with this product being matte the consistency of the formula isn't ideal as a base for makeup
so I would tend to use a more moisturised base if I knew I was wearing makeup for the day.
All this being said I do use this in combination with skin cleanses, scrubs and other moisturisers, I also try to live a healthy lifestyle to help treat my blemishes, by drinking enough water, regular exercise and healthy diet.
Thanks for reading.
Follow me on Twitter @MoobeautysS